Description
Mindray
TE7
Diagnostic Ultrasound System
Dedicated Solution for the Pioneer of Care
Features
Easy to Learn and Use
Touch Enabled Response
State-of-the art fingerprint operation
Tap to open or close functions, drag to adjust parameters and move objects, pinch to zoom in or out, slide for multi-selection, and swipe to expand the imaging area, even with your gloves on- providing simple control and setting optimization at the touch of a finger.
Customizable Layout
Most frequently used ultrasound functions are constantly displayed on the top half of the screen. Advanced functions and features can be easily defined by you, and just a 'touch away'.
Complete Disinfection Solution
Based on Mindray's consistent emphasis on rigorous testing, TE7 provides the highest standard disinfection solution with a special optimized design, high chemical resistance, and a wide range of disinfectants. The seamless and non-porous touch screen is easily disinfected, with a 10- second screen locking feature for cleaning even during exams. Both the main unit and transducers of the TE7 can be cleaned and disinfected to reach disinfection standards in various countries, including Eurp and North America.
Safe Needling Features
Using ultrasound guidance to visualize the needle during procedures is a smart choice for the Pioneer. The TE7 delivers the optimal solutions for better identifying the needle track and needle tip, such as eSpacial NaviTM with programmable buttons and iNeedle+, to improve safety and efficiency.
High definition image for nerve, vessel, and soft tissue
Innovative eSpacial Navi TM magnetic navigation
Integrated and programmable buttons

eSpacial Navi TM: The Best Solution for Out-of-Plane procedures
With eSpacial Navi TM, the 4D magnetic needle navigation technology, TE7 guides to better visualize the needle adaptively during either In-Plane or Out-of-Plane procedures. The position of the tip and the alignment of the needle now are simply identified, allow you to plan the needle trajectory before puncturing and guiding you to the target safer and easier.
iNeedle+TM: Optimal needle visualization for In-Plane procedures
The advanced needle visualization of iNeedle+TM is available for linear and convex transducers. This technology can greatly improve the needle display during In-Plane approach. The intelligent algorithm can automatically track the needle angle and optimize the ultrasound beam accurately by degree for optimum image quality, compared with normal visualization technology.
Transducer with Programmable Buttons
One of our transducers with 3 programmable buttons ensures simple, fast, and convenient control without touching the system, letting you focus more on patient care. The optimally positioned keys can be defined as depth & gain adjustment, freeze & unfreeze, save image & cine, and more.
---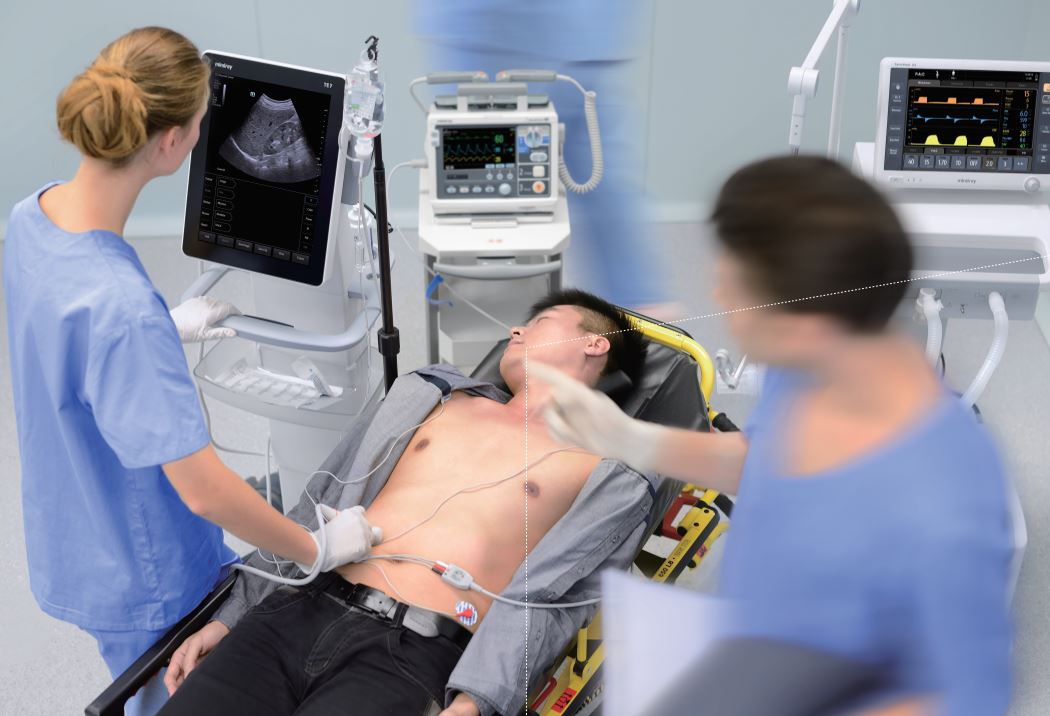 Application Features
Musculoskeletal Application
High Frequency Probe
High Sensitive Power Doppler
Biopsy Guide
Emergency Medicine Application
3 sec boot up from standby
Extreme portability
Built-in battery
Emergency software packages
Anesthesia and Pain Management
Intuitive workflow
Clear nerve and needle image
Dedicated nerve exam presets